Infant Pillow / Blanket Combo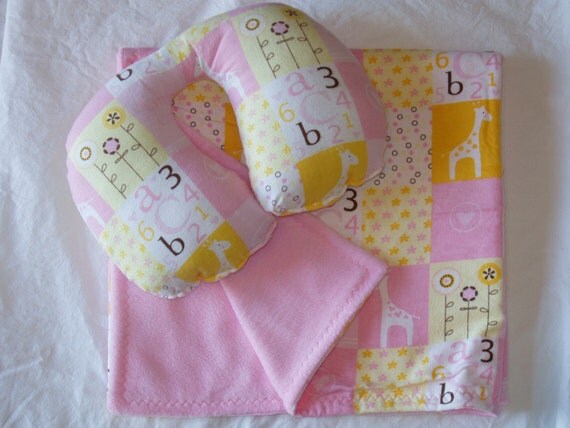 One Small (Infant) Slip Cover Pillow and Matching Blanket
(this pillow has a zipper cover with white inside pillow, for washing more often.)
Blankets are two sided, front with matching flannel and back with one solid matching color in a Anti-Pill Fleece. (about 30" X 30")
This item is set up for the Little Cuttie Slip Cover Combo set, however I do have the Little Buddie Slip Cover set available. If you would like one of these please make a request in "Notes to Seller".
Please look at one of my pillow listing for pictures of the medium pillow in use.
PeeWee Pillow – A Toddler / Child Travel Pillow, Neck Support
HOW'S IT MADE
The PeeWee Pillow is U shaped made very narrow at the back of the neck to keep from pushing the Toddler / Child's head forward. Instead the child's head will tilt slightly to the side and find the comfortable pillow (the back is simply to keep the pillow in place). The sides are wide and soft to provide a soft pillow on the shoulder, preventing a crazy kinked neck. If used with a car seat the wide sides push against the sides of the car seat to provide more support and movement.
KEY POINTS
• Terrific travel pillow – use it anywhere… cars, strollers, planes, off road vehicles, baby swings, ect…
• Supports peewee's head and neck…less fussing …sleeps more sound
• Also great for those with handy caps in wheel chairs
• Easy enough for kids to put on and off unlike other installed pillows
• All created and handmade by this caring mom, in a non-smoking home
• Made with 100% Cotton shell and Polyester hypo-allergenic fiber fill
• Machine wash and dry (delicate cycle), however, if washed to often it will become misshaped and lumpy. If you want to wash often consider one of my Slip Cover pillow.
• Lots of cool fabric designs
• Will take special orders for Fabric Selection
• Removable Slip Cover Pillows also available
• Matching Blankets and Bags available
Different Sizes Available
Small (Infant) – Recommended for 4 months to 18 months
(I don't suggest using till the child has head control)
Medium (Regular) – 11 months and up
Large – Larger Children 7 and up and woman
Extra Large – Men